Virtual Venue
ShellCon 2021 will be held virtually on Fri-Sat, Oct 8-9, 2021.
Discord
Our ShellCon 2021 Discord Server is the central location for all ShellCon activities. Make sure you join if you want to take part in any of the villages, RaiseMe career consulting, job fair, or just want to chillout! Make new friends and see what employment opportunities our sponsors are offering.
Talks
Our technical talk track will be running both days on our YouTube channel. Check out the Schedule to see which talks you're interested in! All Q&A will take place in the #main-talk-questions channel on Discord. If the speaker is available after the talk, then they may announce that they'll be in one of the voice channels for further discussions.
RaiseMe Career Talks
Our RaiseMe hub will be hosted on Discord. We have a full schedule of talks both days. There will be time after each talk to interact with speakers personally, but our speakers enjoy engaging directly with attendees. After time has expired, you can follow the speakers over to #raiseme-talk-questions and continue the discussion.
RaiseMe Career Hall Consultations
Head over to the RaiseMe to sign up for a consulting appointment for Resume Review, Interview Practice, help with a Job Search, a Career Checkup, or other career debugging. You can choose which consultants you'd like to meet with, and you are welcome to speak with several. Reserve your spots early!
Job Board
Many of our sponsors, and community partners, are looking for great additions to their team and will be posting open positions on the RaiseMe virtual job board: Job Board. If your company is looking for talent, you can post openings here for free. Also, if you are a candidate and would like to hear from companies that are hiring, this job board also works in reverse! You can post your availability if you are open to new opportunities, and include your skill sets for targeted responses.
Villages & CTF
Our villages will also be taking place on Discord. Throughout the day, there will be hosted hands-on sessions for lockpicking demonstrations. In between demonstrations, the villages will be a place for like minds to share their projects and hobbies, or newcomers to ask questions.
If you're looking to get some tools to learn lockpicking, head over to the Villages page for some suggestions. Better hurry to get them in time for the conference!
The CTF is hosted and run by our community of volunteers and challenge submitters. There's channels for CTF rules and discussion on the Discord.
Workshops
Our workshops had a limited capacity, and we're really sorry if you missed out. If you signed up for a workshop, check the email that you registered with for meeting information. Some workshops may require additional materials, so please ensure that you follow any instructions sent and download the materials ahead of time.
ShellCon After Dark
We've gathered an amazing lineup of DJ's that will be playing through the evening and into the new day each night. We'll be running these over on our brand new Twitch channel.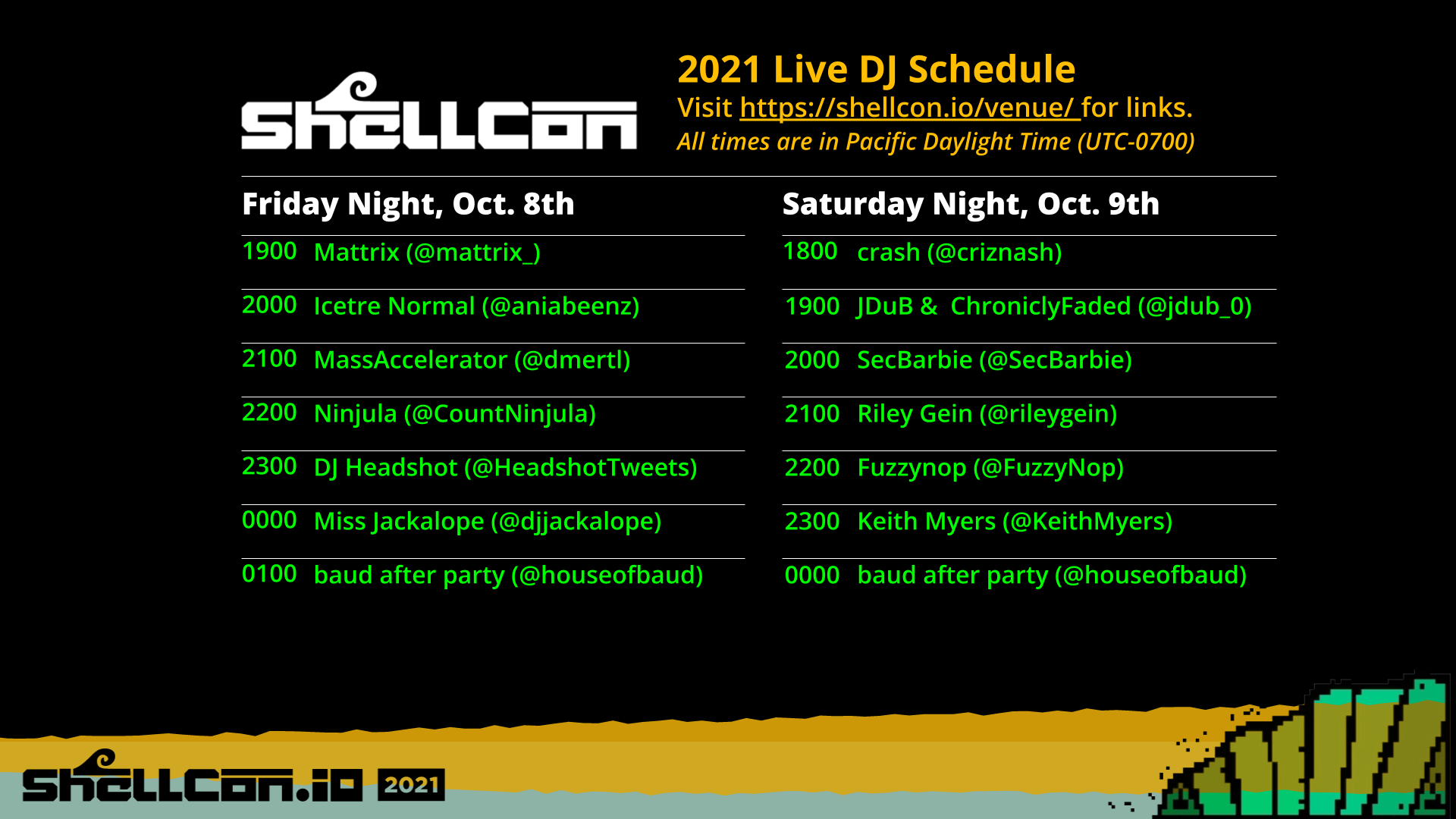 ---